All Pay Per Click (PPC) Management Services at one SEM Agency
What's SEM/Pay Per Click (PPC) Advertising & how does our firm help?
PPC is a form of digital advertising where your ads are shown to your shoppers on search engine marketing (SEM) sites like Google or social media sites like Facebook & LinkedIn, but you only pay when they engage your ads.
While being a super effective marketing strategy; creating, managing and refining PPC ads have become extremely complex. That's why most companies hire a PPC management agency to take care of it.
But, over 90% of PPC management firms don't cover all platforms, do lousy monthly checks, and care about clicks instead of the bottom line. This costs clients thousands of dollars in wasted money and opportunity!
At BrandLume, your bottom line has the utmost importance, and you'll get complete PPC management services, at one agency, with unbeatable prices and no strings attached!
300% increase in Customer Leads
Optimized keyword strategy, custom landing page designs and smart mobile big adjustments resulted in avg. ad position of 1.5
51.7% reduction in Cost Per Click (CPC)
Smart bidding strategy helped in reducing the average CPC from $7 to just $3.26
57% reduction in Cost Per Conversion (CPC)
Optimized PCC custom strategy, resulting in 48% increase in conversions with significant lesser CPC
What makes our PPC Management Services Special?
Like all our other services, we provide all the solutions you need in one place, at upfront ROI focused prices and with no long-term contracts. The Pay per Click management services we provide is no different.
Everything related to paid search marketing is covered here and managed by our expert certified SEM team and the help of Artificial Intelligence (AI) to deliver the best ROI.
From PPC advertising through (SEM) search engine marketing on Google and Bing via AdWords, shopping List and display network (GDN) management to complete paid search marketing on major social media platforms like Facebook, Instagram, Twitter, and LinkedIn via display ads, ad campaigns, remarketing and retargeting.
Don't have a proper landing page to send all your PPC leads to maximize your conversion and ROI? No problem! We've even got you covered with custom high converting landing page design.
Dynamic PPC Management services for Google & Bing
Everything from Google and Bing Ads, Google Shopping List, Google Display Network (GDN) and Remarketing are taken care of with our Google AdWords certified and Bing Ads Certified SEM team.
BrandLume's SEM PPC service is very different than what other agencies and firms provide. There is no set it and forget it, cookie-cutter, minimal monthly campaign checkups, long-term contracts or percentage of ad spend management fees here.
You'll get a dedicated SEM campaign manager and a team of SEM experts who refine your campaigns, every single week, and use world-class AI technology to squeeze maximum ROI from your ads.
We even use state of the art PPC click fraud and Bot spam prevention software to stop competitors, Bots and hired click farms from wasting your money.
Social Media PPC Marketing & Campaign Management
At BrandLume, all major social media platforms that offer PPC advertising like Facebook, Instagram, Twitter, and LinkedIn can be covered under our pay per click management services, hassle-free.
You can mix and match our solutions to your heart's content.
Integrate our PPC services with your current strategies that you do yourself, with other SEM companies, have us do it all or just one platform.
Check out all the possibilities below and know the prices right up front.
Remarketing / Retargeting Ad Services
Remarketing or retargeting is a form of PPC marketing in which your pay per click ads are shown to shoppers who visit your website and leave without doing a transaction (that's 95% of your visitors).
These visitors are then tagged using cookies and pixels from search ad platforms like Google (GDN) and Facebook.
You remarketing/retargeting ads are then shown to these visitors on search results, Google, Facebook and other websites they visit, promoting them to go back to your site and take action.
Google and Facebook retargeting/remarketing is an extremely cost-effective way to turn visitors to buyers.
At BrandLume, you'll get dynamic retargeting ad campaigns that work hand in hand with your other digital marketing strategies to substantially increase your conversion rates at minimal cost.
PPC Delivers Lead Generation for any Company
Pay per click advertising is a powerful lead generating machine that will deliver real, measurable results for companies in all shapes and forms.
But doing it well and minimizing the cost per clicks while increasing conversions through constant campaign adjustments and sale funnel refinements is what makes or breaks the ROI of any PPC campaign.
At BrandLume, we love creating PPC campaigns that become solid lead generating machines that deliver maximum ROI for our clients, and we have a record to prove it.
Landing Page Design Services for Best Conversion
Creating the best PPC campaigns and ad groups is only half the equation for creating a well-running lead generating machine. The other half is where the customers land once they click the ads.
Having a high converting Landing page is a crucial part of creating a high converting campaign that produces maximum ROI at the lowest CPC. Nothing is worse than sending pay per click traffic to a landing page that sends them running away.
Unlike most PPC management agencies, our focus is the bottom line, not the number of clicks.
That's why we have a dedicated landing page designer team to create the best landing pages that work on any website and company. So, you can make sure your money isn't going to waist.
In fact, over 60% of our clients say that they have increased their ROI by 40 to 600%, compared to their previous PPC strategies.
Budget More Than $15,000 ?No Problem!
We'll only charge 12% of your Budget!
ProTip: Combine your Google, Remarketing & Social PPC & pay 1 management fee!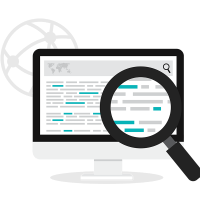 We Have Got Everything You Need! Can't Find?
Search Away
Do You Need Our Help To Guide You Through?
You Got It!