It All Begins With Registering a Great Domain Name!
Start your domain name search
Use the free real-time domain name registration lookup bar above to find your perfect domain name.
Our intelligent domain name spinner will give you on the fly available domains based on your search.
Pick any extension like .com, .co.uk, .ca, .org, .net, .info, .biz, etc., without extra or hidden renewal fees.
What is Domain Name Registration & Why Choose BrandLume?
Domain name registration is the process of connecting an easier to remember the alphabetic name to the numeric IP address that is the identity of a website in the online world of servers and computers.
This concept might seem simple but is rather a complex process that requires an ICANN or ccTLD accredited domain name registrants like GoDaddy, Domains, Google & BrandLume to take care of the process.
At BrandLume, we pride ourselves for providing no gimmicks, hassle-free services & our domain name registration service is no different.
Register your perfect domain name worry-free, knowing that our great upfront prices aren't long-term contract contingent.
AND your domain name renewals will not carry unforeseen extra fees or dubious price increases.
Looking for a Free Domain Name Registration?
Then combine your domain registration with any of our best in class hosting services to get your first-year domain name registration for FREE!
You can also park all your other domains on our hosting plans with our instant migration tool.
What do I get with BrandLume's Domain Name Registration?
Simply put; all the tools you need to register & manage your Domain, DNS and more are provided in our fully featured self-service management portal.
Enjoy real-time domain availability checker to help you find your perfect available domain, nameserver management, instant registration of your domain after checkout & automatic fee free renewals.
Real Time Availability Checking
Check domain name availability using our real-time WHOIS checker
Easy WHOIS Management
View & make real-time changes to your WHOIS contact Information at domain registries and make your information private at any time.
Zero Gimmicks Automated Renewals
Enjoy Automatic, worry-free renewals without dubious price increases or extra fees charged by other registrants
Domain Syncing & Security
Access to daily synchronization of your domain due dates and status, as well as secure auto detection of transfers away
Full DNS Management
Get full access to directly view & manage your DNS host records for your domain names and more
Super Easy Domain Transfers
Our automatic, instant domain transfer makes it easy to switch to our services
Simple order processing
Automated request for EPP Code
Automated domain transfer initiation
Automatic daily status polling for security
You'll get a confirmation email upon completion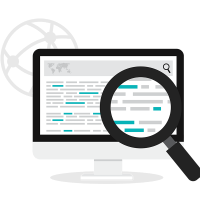 We Have Got Everything You Need! Can't Find?
Search Away
Do You Need Our Help To Guide You Through?
You Got It!