Digital Marketing Agency for Complete Advertising Services
You don't want the labor pains; you just want the baby, and we get it!
That's why we've brought all digital marketing services you'd need to grow into our agency, and made the process as simple as buying a t-shirt on Amazon.
Scroll through to discover all the digital marketing solutions you need to find, connect and convert online window shoppers to paying customers across every digital marketing channel.
Simply click on one of the digital marketing categories below to find complete solutions with full details and up-front pricing inside.
So jump in, research on your own or call, text, chat and email us. We are here to help whenever you need us.
Choose the Digital Marketing Category You Want to Dominate
You'll find a powerful suite of services within, each one designed to resolve your exact needs in a-la-carte & all-in-one packages.
Search Engine
(SEO) Services
Complete SEO services to get on the first page of Google & stay there
 In-Content Backlink Building
 On-Page+Off-Page SEO
 Full Local Citation Building
 Guest Blogging & PR Outreach
 High DA Website links & More…
Social Media
Marketing Services
Complete social media marketing & management for the major social platforms
 Full Account Management
 Facebook-LinkedIn-Insta-Twitter
 Content Building &  Publishing
 Ad Campaign  Management
 Social Profile Setup & Refinement
Reputation Management
Services
All you'll need to manage your reputation & use it to convert shoppers
 Fully Managed  Reputation Solution
 Easily

Obtain Positive

 Reviews
 Prevent Negative Reviews
 Reputation Monitoring System
 Auto-Post to Social Media
Pay Per Click (PPC)
Marketing Services
Every gadget to get you in front of your active shoppers at the right cost
 Fully Managed PPC/SEM Solution
 Google Ads Setup & Management
 Social Media Campaign Management
 Remarketing & Display Marketing
 Landing Page Design & Optimization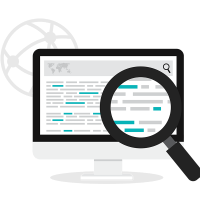 We Have Got Everything You Need! Can't Find?
Search Away
Do You Need Our Help To Guide You Through?
You Got It!